KCIJ-Newstapa identified two Koreans in the client list of British private investment bank Coutts, which was exposed as part of the Appleby's leaked files.
One was Ahn Sungtae, a professor at Korea Advanced Institute of Science and Technology (KAIST), and the other person was Park Dong-hyun, Chairman & CEO of Mezzion, a KOSDAQ-listed company. (See this story to see more detail on Ahn and his trust.)
Mezzion Chairman Park Dong-hyun owned a multi-billion-won trust along with his 3 daughters
Mezzion is a KOSDAQ-listed medicine developer famous for its flagship product 'Zydena,' the Korean version of Viagra.
We found Park in the Coutt's client list, which was leaked via Appleby's database. The leaked documents showed the structure of his trust fund, which he incorporated in a tax haven, in detail.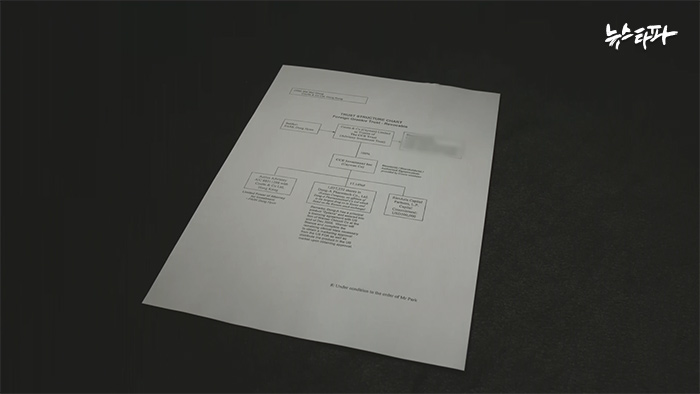 Twenty years ago, Park established a trust named 'CCE Trust' in the Cayman Islands and incorporated an investment company called 'CCE Investment' using fund deposited to the trust.
"About two decades ago, I incorporated the trust with money I earned while working in the U.S." Park explained at an interview with KCIJ-Newstapa. "The trust was to inherit wealth to my three daughters, all U.S. citizens."
"As I established the trust with money gained in the U.S., this has nothing to do with tax evasion or illegal capital outflow issues in Korea," he added. "If I was an American citizen, you could have told me that I tried to avoid inheritance tax which is supposed to go to the U.S. tax authority, but there is no problem as I'm a Korean citizen."
Park argues "trust was to inherit to daughters" … Found to be actually included in the beneficiary owners list.
Park emphasized that he "was only a grantor of the trust fund and has no rights over the asset as the three daughters are the beneficiary owners."
However, according to documents leaked from Bermuda-based law firm, his own name is included as one of the beneficiaries, along with three daughters.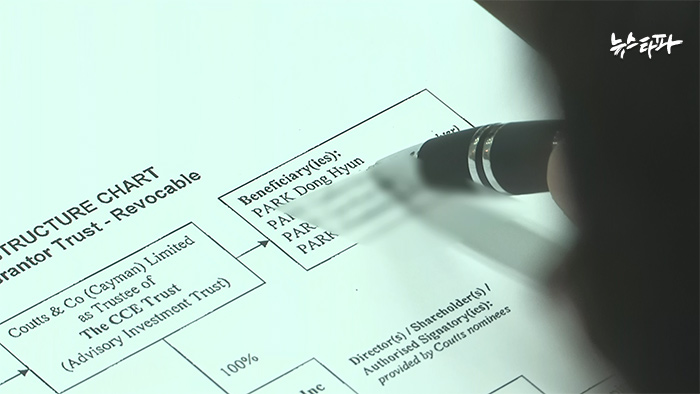 When showed the document, Park acknowledge the fact that he was actually named as one of the beneficiaries saying that "he forgot about this as it's been a long time ago."
"Back in the days, someone told me that this type of structure is not considered a grant under the U.S. tax code, while my children can be granted of this money after a certain period of time," he said. "But the person said, one of the pre-conditions was that the settlor has to remain a beneficiary owner. So I left my name there in the list."
Park invested in his own company via an offshore trust, gaining a profit 30 billion won after a 500 million won investment
CCE Trust bought in more than 1 million shares of Mezzion, back then named Dong-A Pharmtech where Park has served as a chairman, via CCE Investment. The purchase was made in 2009, three years before Mezzion went public. The value of shares that Park obtained via an offshore trust has skyrocketed to over 30,000 won per share, from 500 won per share when he first purchased. This means, Park made 30 billion won in his pocket after investing just 500 million won.
But according to Mezzion's regulatory filings, nothing indicates that CCE Investment is a company affiliated with Park. This means, when simply looking at the public notice documents, this investment was done on the name of CCE. So, it seems like a foreign investor CCE made the big bucks, not the Park family. This actually benefited the Park family in terms of tax reduction.
CCE Investment sold shares worth 300 million won last year.
In Korean tax code, a company or investor affiliated with the largest shareholder has to pay the transfer income tax. But CCE Investment paid zero, as the relationship with Park was not publicly noticed.
Even an investor relations (IR) manager at Mezzion was not aware that CCE Investment was owned by Park himself. "CCE has been a friendly shareholder for our company, when it comes to keeping management in control. It's a foreign investor so irrelevant to Park," the IR manager said in an interview with KCIJ-Newstapa.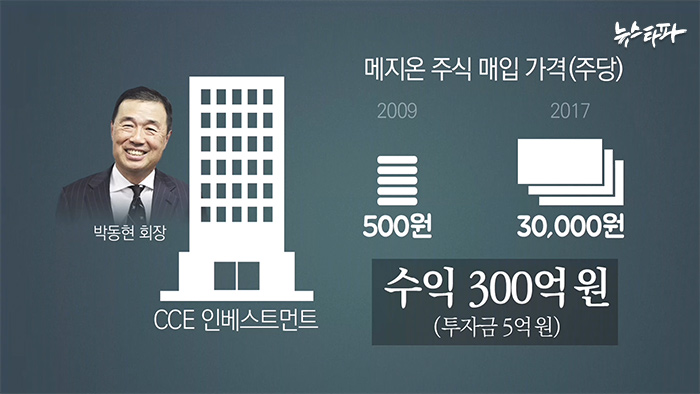 After KCIJ-Newstapa started investigations, Park acknowledged his mistake.
"That was my mistake. So, I will pay all the taxes by setting up CCE as Mezzion's affiliated person," he said.
An email tells the truth … "Will deposit 50 billion won after selling off parts of Mezzion shares"
Among a pile of leaked documents from Appleby, an email was found which an Appleby employee at Hong Kong branch sent to its Bermuda headquarters in Feb. 2014. Following is the detail:
"Park said he will sell off parts of Mezzion shares, and deposit in this trust. He said he plans to sell shares worth $50 million. Considering the massive amount of service, Park said he cannot pay an administration fee worth 0.2% of the trust's total asset."
In fact, Mezzion shares were worth more than 40,000 won per share at the end of 2014. So, if he really carried out his plan, Park could have gained cash of nearly 50 billion won. This amount of money could have deposited to the Cayman Islands-based trust with no problem, as the money was officially owned by a foreign investor's name. Thus, no tax on the profit margin must have been created from sell-off. This is one of investment schemes, pretending to be foreigners. They were the so-called 'fake foreigners.'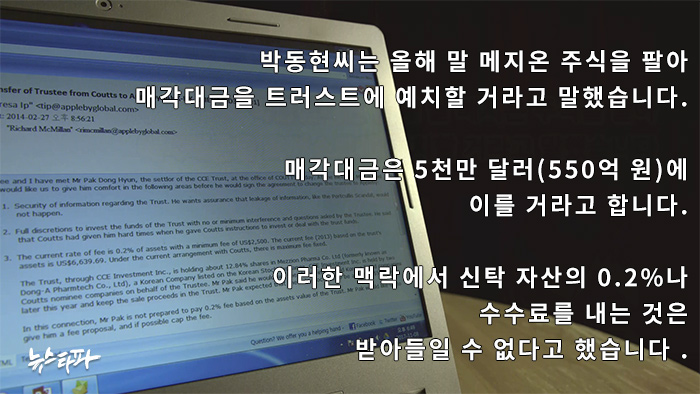 But fortunately, this never happened in reality. CCE Investment didn't sell off the Mezzion shares. Except for when Park sold shares worth 300 million won last year, he still holds on with more than 1 million shares. Regarding questions on sell-off, Park explained that he actually lied to Appleby in order to cut the administration service fee.
But the Appleby email includes the following conversation:
"Firstly, Park requested for security on trust-related information. He wanted us to guarantee that there would be no document leak like the Portcullis scandal."
The Portcullis scandal refers to the Offshore Leaks project, carried out by KCIJ-Newstapa and ICIJ in 2013, meaning that he wanted Appleby guarantee to protect his trust from being exposed due to the Offshore Leaks project.
Why was Park so worried of the documents' leak, if he really forgot to putting it on the public notice?
All those Offshore trusts … How much had the Korean rich hidden there?
If the Appleby documents were not leaked, Park's secret would never have been exposed.
Maybe Park could be someone unfortunate, because Korean ultra-wealthy figures' asset must have been hidden in countless number of trusts at offshore tax havens safely at this moment. He actually responded as if he was victimized.
And these Koreans could be enjoying plenty of margins, created by investing in their own capitals in Korea via overseas entities. This is actually a type of internal transactions, and this may be simply a tip of huge iceberg.