Now that Kim Jong Un has met with Moon Jae-in's top National Security advisors, the next step in the Korea peace process is to see whether or not President Trump and his administration will actually sit down and talk with North Korea. At the moment that is a very open question.
On March 3, on the eve of the South Korean visit to Pyongyang, Trump surprised many observers when he told an audience at a Washington media event that North Korea had told him they "would like to talk," according to the US publication Politico. But Trump made clear that he was only willing to talk if North Korea first gave up its nuclear ambitions.
"I said, so would we, but you have to de-nuke," Trump said, "So let's see what happens." Pointing to the meetings between the Moon and Kim governments, he said, "Maybe positive things are happening, I hope that's true. We will be meeting, and we'll see if anything positive happens."
While that was the surest indication of Trump's intentions, his demand for immediate denuclearization is still problematic for both Koreas. President Moon has made clear that he would like to see a peace process emerge on the Korean Peninsula with denuclearization as a final outcome. Meanwhile North Korea has made clear that talks with preconditions with the United States are not acceptable.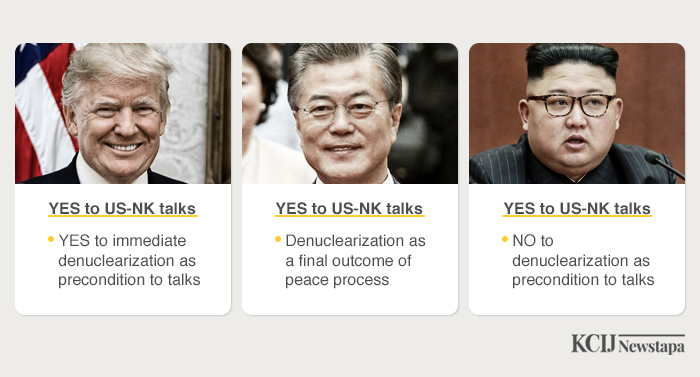 Moreover, Trump has added to his threats against North Korea by saying that, if the sanctions against North Korea for its denuclearization do not work, the United States may proceed on what he calls "Phase 2" of his maximum pressure campaign -- that is, a military strike. How these differences are resolved could very well determine the outcome of the nuclear conflict on the Korean peninsula.
The possibility of peace talks is a direct result of the Olympic truce. Last month, South Korea and the world witnessed an extraordinary series of meetings between President moon and senior North Korean officials from the Kim Jong Un government. These meetings marked the highest level of engagement between North and South since the 2007 Summit in Pyongyang. As a result, President Moon sent his special envoys to North Korea to discuss the next steps in the process, which may include a summit meeting between Moon and Kim.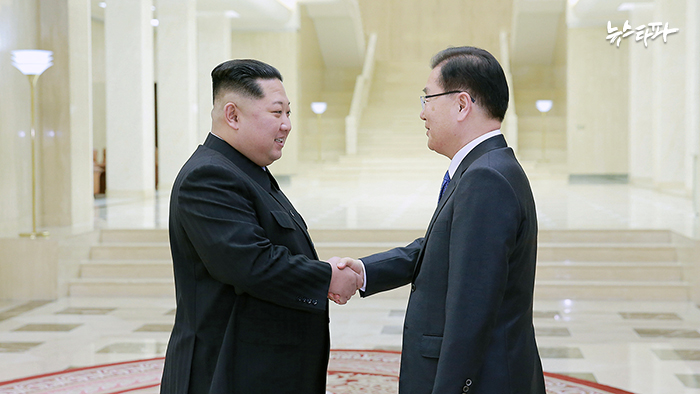 But now comes the hard part: persuading the Trump Administration to hold real negotiations with North Korea. President Moon has made clear this is the ultimate goal for his diplomacy, and discussed this with Trump in a March 1 telephone call. Here are the factors influencing the Trump Administration.
First, Trump's White House and the Korea decision-making process is in chaos. This became clear in February when the White House withdrew Victor Cha's name as the next ambassador to South Korea. Cha was reportedly opposed to the idea of a "bloody nose strike" in which the United States would attack North Korea's missile and nuclear sites without sparking a reaction from Pyongyang. He and many other Korea specialists have seen this as an extremely dangerous idea. But it was being loudly trumpeted by H. R. McMaster, Trump's National Security advisor.
These divisions have underscored the tensions in the administration between the more militarist factions, led by McMaster, and the diplomatic faction, led by Secretary of Defense Jim Mattis and Secretary of State Rex Tillerson. Trump recently expressed annoyance with McMaster by publicly criticizing him for telling reporters that Russia had interfered in the 2016 elections (Trump continues to insist there was no "collusion.").
Another sign of administration discord came on February 28 when Joseph Yun, the US Special representative for North Korea policy, unexpectedly resigned from his position. Yoon had been the sole Administration official in direct contact with North Korea, and had negotiated the release of US student Otto Warmbier from North Koreans custody. Tillerson said he accepted the resignation "with regret." But a former US official who has been in touch with Yun said he was simply "fed up" with the administration's wavering positions on negotiations.
Second, there are conflicting reports of who may replace Cha as Ambassador and McMaster as National Security advisor. Currently the temporary Ambassador is charge d'affaires Marc Knapper. He has added to the confusion in the administration by accusing North Korea of using talks as a cover to continue its nuclear program and by saying that the upcoming US South Korean military exercises are certain to take place despite reports that they may be delayed.
Over the last two days media reports have suggested that the Ambassador could be retired US general Walter Sharp, who was commander of USFK from 2008 to 2011. That would put a hawk in the US Ambassador seat in Seoul, which appears to be the US intention. Sharp "is a known hard-liner when dealing with North Korea's nuclear and humanitarian issues, and has been vocal about such subjects for years," the Korea Herald reported this week.
But who runs Trump's White House policies is far more important. Last week, as it became clear that McMaster was on his way out, the Washington Post reported that his replacement could be former UN Ambassador John Bolton. That would be a disaster for Korea, north and south. During the Bush Administration, Bolton was instrumental in undoing the 1994 agreement that ended North Korea's nuclear program for 12 years and since then has been a fierce advocate for military strikes on, and regime change against, North Korea.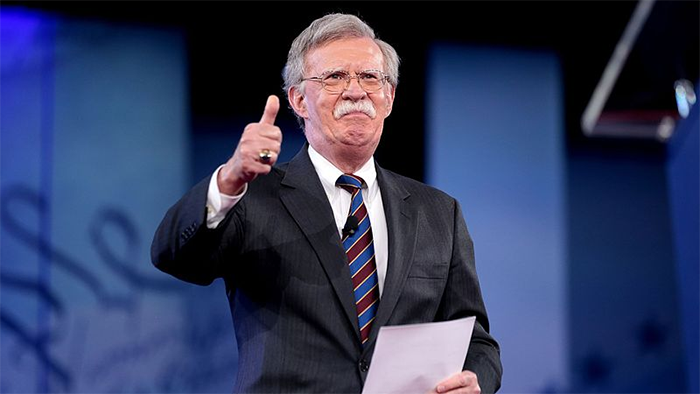 In a recent speech obtained by the Post, Bolton proposed a massive US military strike on North Korea that would take weeks to complete and likely end in the deaths of hundreds of thousands of people. The United States, he said, "would have to simultaneously destroy all known North Korean nuclear and ballistic missile sites, submarine bases, and artillery, mortar and missile installments along the North's border with South Korea."
He added: The Kim regime would soon collapse, "requiring" the deployment of American and South Korean troops inside North Korea to secure the nuclear sites. China could, in advance, be offered a chance to participate, to protect its interests and minimize the adverse effects, Bolton said. This is apparently what Trump means when he refers to a "phase 2" of the US campaign.
The US Military is prepared for such an action. Last week the New York Times reported the Pentagon staged a "classified military exercise" examining "how American troops would mobilize and strike if ordered into a potential war on the Korean Peninsula, even as diplomatic overtures between the North and the Trump administration continue."
Third, there was a possibility that McMaster could be replaced by an official more amenable to negotiations. Even as Bolton's name was being suggested by hawks, officials close to the White House suggested the name of Stephen Biegun, the vice president of international governmental affairs for the Ford Motor Company. He is a longtime player in US foreign policy and previously served on the National Security Council from 2001 to 2003 as a staffer for George Bush's then-national security adviser, Condoleezza Rice. He was also an advisor to the presidential candidacy of Sen. John McCain.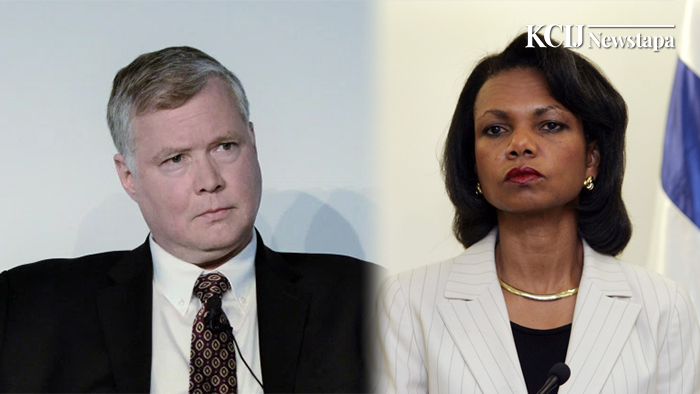 His relationship to Rice is important, because during the Bush Administration Rice won an internal battle within the government to negotiate with North Korea over the objections of John Bolton, Vice President Dick Cheney and other neoconservatives. Biegun's appointment as National Security advisor may also be likely because Secretary of Defense Mattis is said to be the official trying to get McMaster out. If Mattis succeeds, some kind of open-ended negotiation with North Korea is likely.
But progress will also depend on the attitudes of both Trump and the North Korean governments, Presidential advisor Moon Chung-in said in a recent speech in Washington. Moon, who frequently visits Washington during critical times, told the pro-engagement National Committee on North Korea that he was pleased with how North and South had treated each other during the recent talks in Seoul, particularly during the meetings between President Moon and Kim Yong-chol, the vice chairman of the Workers' Party's Central Committee.
The President, he said, "made clear that North Korea must make progress on nuclear weapons" for any talks to succeed. In the past, he said, North Korea would have ignored those comments, but "this time Kim Young Chol listened. It's time now for a maximum prudence. It's like walking on ice."
As for Trump, Moon said the US "should not demonize North Korea. If they become a demon, they cannot compromise." Overall, the crisis "cannot be solved quickly," Moon added. "We need a long-term time perspective."