South Korea and President Moon Jae-in have come under fire in recent weeks from so-called "human rights groups" in Washington as well as the United Nations for clamping down on the North Korean defector groups who launch propaganda balloons across the DMZ in defiance of both local and national authorities.
The latest shots at President Moon come from the North Korea Freedom Coalition, a Washington organization run by the Virginia political activist Suzanne Scholte, and the Jubilee Campaign, a Christian non-profit that claims to promote "religious liberty" of minorities in such countries as Pakistan, Iran, China and North Korea.
In addition to calling for the legal protection of North Korean defectors in South Korea, the letters to Moon from the Coalition, Jubilee and other groups have championed the cause of extreme right-wing figures in Korea. They are also reluctant to speak publicly about their activities. None of the pro-defector organizations would answer even the simplest questions about the contents of their letters or their complaints to the Korean government. Jubilee even called the questions themselves "biased."

Their campaign, however, is not seen as credible by a US analyst with many years of experience working on human rights issues in Korea. "Human rights is about leverage," said Stephen Costello, the former director of the Kim Dae Jung Peace Foundation/USA and a visiting scholar at the George Washington University Institute for Korean Studies. "The credible organizations that promote North Korea human rights also support diplomacy," he said in an interview. "It is easy enough to stand against a dictatorial government, but harder to engage in efforts that are principled, strategic, and practical."

But engagement is not high on the agenda of the pro-defector groups in Washington. Among the South Koreans the US groups are defending are the leaders of the Sarang Jeil Church in Seoul, which the New York Times recently described as a magnet for thousands of conservative Christians who fear their country is turning communist under President Moon," and Rev. Jun Gwang-hun, a controversial far-right pastor at the center of the latest COVID-19 resurgence in South Korea.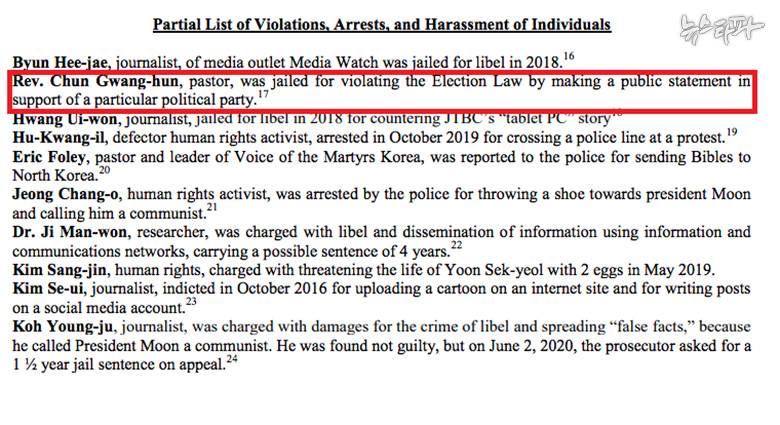 In an August 12 letter to President Moon signed by political figures from both Republican and Democratic administrations, Scholte's NKFC released a sharply worded letter calling on President Moon to "review your policy of intimidating and harassing North Korean human rights organizations and instead help support their efforts to promote human rights for North Koreans." Scholte did not return emails and telephone calls seeking comment.
Among the signers of her letter were Richard V. Allen, the former national security adviser to President Ronald Reagan; Roberta Cohen, the former Deputy Assistant Secretary of State for Human Rights in the Carter administration; and Ambassador Robert R. King, the former Special Envoy for North Korea Human Rights for President Barack Obama.
It was also signed by several figures well-known in Washington for their militant opposition to the North Korean government. One of them, Tara O, is the president of the far-right East Asia Research Center who often posts material from the right-wing Korean website New Daily. Another signer, Nicholas Eberstadt of the conservative American Enterprise Institute, writes frequent op-eds critical of North Korea for the New York Times.
On August 4, Scholte's coalition sent another angry letter to Moon that accused him of taking actions "to suppress fundamental freedoms in South Korea which has included oppression of North Korean defectors, human rights activists, and organizations." In July, the coalition claimed that the key defector groups in South Korea - Fighters for a Free North Korea, Keunsaem, and their leaders Park Sang Hak and Park Jung Oh – have been "repeatedly harassed by the South Korean government."
In late August, the Jubilee Campaign joined the efforts with a letter to Moon castigating him for his government's actions against the Sarang Jeil Church.
"Scapegoating and persecution of religious communities in any country is troubling, but I am shocked to see this coming from South Korea," Ann Buwalda, Executive Director of Jubilee Campaign, stated in a press release. The letter was signed by "266 organizations and 14,832 individuals representing 57 countries," according to Jubilee.
Ms. Buwalda was asked in an email if she believed that the South Korean government has the right to penalize organizations, including churches, that defy government rules on controlling a pandemic. She was also asked about concerns that letters like this might be construed as interference in South Korea's internal affairs.
"You can find answers to your questions in the letter itself," Buwalda replied, via email. Told that asking questions like this was the job of a reporter, she responded: "The job of a reporter is not to be biased."
Stephen Costello, who has worked as an adviser to South Korea's Ministry of Unification and the US State Department, took exception to the claims of the North Korea Freedom Coalition and the Jubilee Campaign and described the balloon actions as a provocation. "President Moon and his administration have been overly lenient with the anti-North Korea groups launching balloons on the DMZ," he noted. "The governments of Kim Dae Jung and Roh Moo Hyun both dealt with these elements more severely."
Costello added that these groups' "open provocation of the North, their reckless disregard for the South Korean public safety, and their opposition to diplomacy make them illegal provocateurs, not proponents of free speech."
Still, the campaign critical of the Moon government has generated enormous attention in the US and foreign media. On August 20th, for example, The Economist published a commentary from Seoul highly critical of Moon titled "South Korea's liberal rulers unleash their inner authoritarians."
And in July, the Washington Post offered a coveted spot on its editorial pages to Park Sang Hak, considered the leader of the North Korean defector community. President Moon, he wrote, "is disrupting the efforts of activists and defectors to improve the lives of North Koreans and provide an alternative narrative to the Kim regime's lies and brainwashing."
But Park's operations are not only a domestic "human rights" issue for South Korea.
Looked at from the vantage point of Washington, the defector movement seems to be an international campaign funded and supported by American conservatives and policy advocates from the US defense industry who want the US government to take a more confrontational stance towards both North and South Korea.
The groups in Washington backing the defectors are the most recent example of the American habit of trying to curb South Korea's sovereign right to conduct its own foreign policy - particularly its delicate peace diplomacy with North Korea.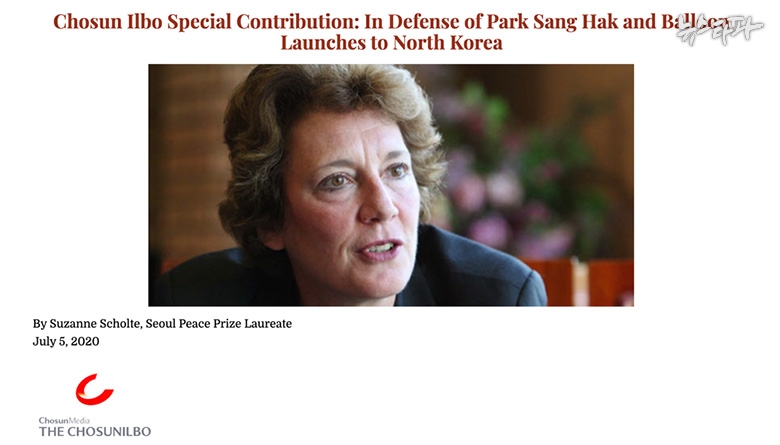 In her August 4 letter, Scholte warned: "If the South Korean government decides to continue its course of violating the rights of human rights activists and organizations, it will send a troubling signal to the global community and erode your country's decades of progress for freedom and human rights."
One of the cases cited in the letter as "suppression" involves the defector Lee Ju-seong, who was successfully sued in Korean courts for libel for spreading propaganda that North Korean special forces troops were key players in the Gwangju Uprising of 1980 – a line of attack that has been proven false yet continues to be voiced by South Korea's far-right.
The campaign against Moon has also been joined by Thor Halvorssen, the wealthy Venezuelan president of the Human Rights Foundation, a New York-based organization that funds and supports the most prominent North Korean defectors.
Halvorssen is already well-known in South Korea and among US Korea analysts for his belligerent demonstrations with defectors during previous governments in Seoul. During the administration of Park Geun-hye, he garnered extensive media coverage for his "Hack Them Back" campaign against inter-Korean peace talks.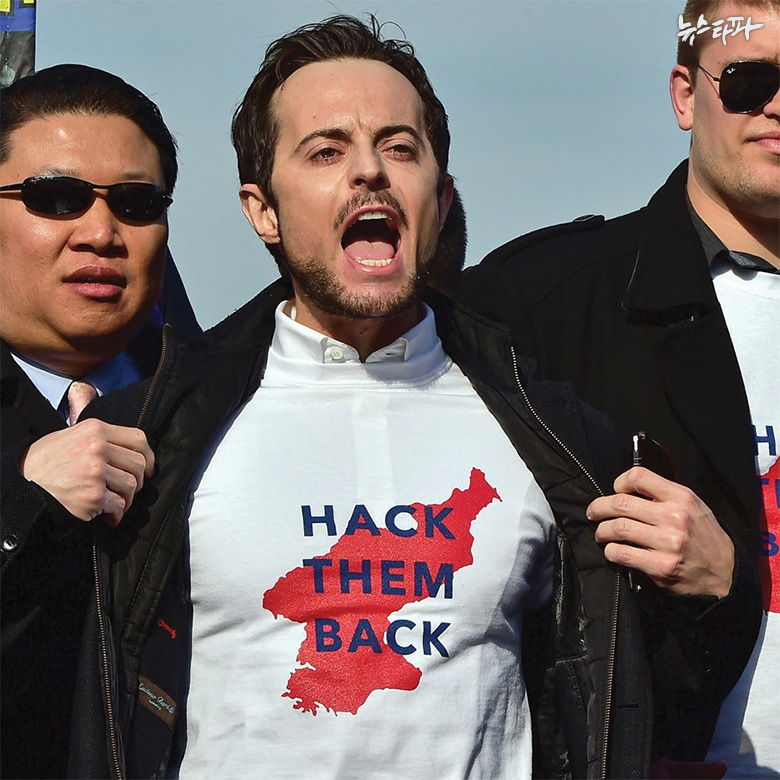 Halvorrsen recently said his group will raise the defector issue with the United Nations Working Group on Arbitrary Detention. "We are appalled and alarmed" by Moon's actions, his letter states.
HUMAN RIGHTS AS A WEAPON
But who are these individuals and groups, and where is their money from? Some of them were found to be connected to the aggressive right-wing faction of US foreign policy that has consistently used "human rights" as a weapon in its campaign to overthrow "rogue states" such as North Korea and Iran.
The North Korea Freedom Coalition and the Human Rights Foundation are, with the US government's National Endowment for Democracy, the largest foreign donors to the defector groups. All of these groups are linked to the "Committee for Human Rights in North Korea" (HRNK), the most powerful of the pro-defector groups in Washington, where NKFC chairman Scholte and Carl Gershman, the founder and president of NED, sit on the board of directors.
The NED's past grantees include the Democracy Network against North Korean Gulag (currently NK Watch), Free North Korea Radio, North Korea Strategy Center and the Daily NK. The NED also financed the first visit to Washington of high-level defector Thae Yong-ho, which Newstapa covered in 2017.
Another close ally in the US media is Gordon G. Chang, a right-wing commentator who is often featured on Fox News and MSNBC, two of America's largest broadcasters. "President Moon Jae-in is doing his best to end democracy in South Korea," Chang said in a recent speech to Scholte's group. "More importantly, he is working to end South Korea itself."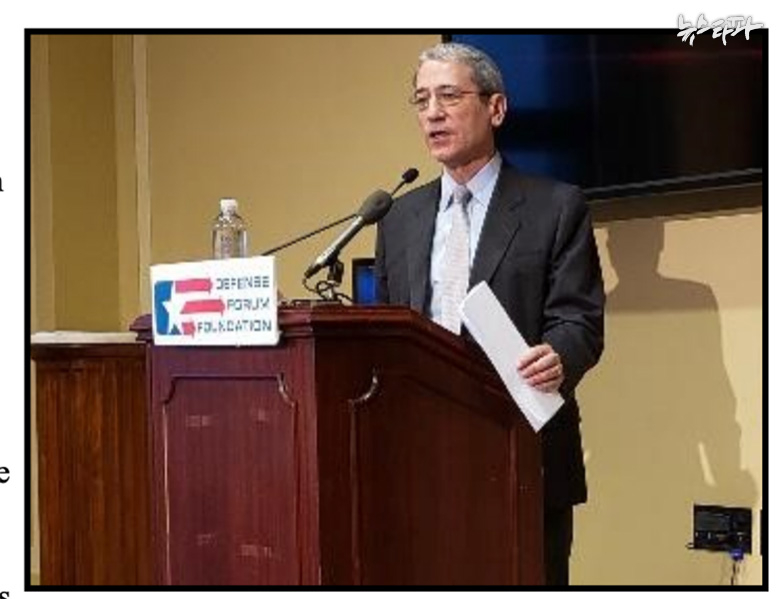 THE DEFENSE FORUM FOUNDATION
The Defense Forum Foundation, the parent group to the NK Freedom Coalition, claims to "work closely with the North Korean defectors living in South Korea as well as help and support the underground railroad which assists North Korean refugees to escape to freedom." It also sponsors Free North Korea Radio, which it claims has many listeners inside North Korea.
In Washington, its primary function is organizing conferences and testimony in Congress and other venues to promote its agenda. Last September, for example, it sponsored a congressional forum on "Hong Kong and South Korea: Frontlines in the Battle for Freedom," equating Hong Kong's independence movement against China with the South Korean rightist attacks on Moon.
Scholte, who is on the board of the Defense Forum Foundation, boasts that she has personally launched propaganda balloons into North Korea with defectors.

The Foundation does not provide information about its budget or funding sources. But its tax documents show that in 2018 it had a budget of $412,086 – almost a doubling of its budget of 2017. Of this total, $116,834, or about 25 percent, came from entities "outside of the United States" – presumably South Korea. According to NK News, the Foundation "disbursed at least $120,000 specifically for balloon launches" between 2007 and 2018.
An analysis of the Foundation's board of directors exposes the organizations' close links to the US military industrial complex and the far-right of American politics. One of the foundation's best-known board members is James Woolsey, the former Director of the Central Intelligence Agency under President Clinton and a prominent neoconservative.
Woolsey is famous for his rabid support for the US invasion of Iraq, and for years has advocated for a US military strike on North Korea. "The US must be prepared to preempt North Korea by any means necessary—including nuclear weapons," he wrote in 2017.
Woolsey runs and advises several private equity funds that invest in companies that provide services to US intelligence agencies, the most prominent being the Paladin Capital Group. Tidal W. McCoy, the Foundation's Vice Chairman, is a former top executive with Thiokol Corporation, a major defense contractor that makes rockets and missiles, and once served as Secretary of the Air Force under President Reagan. He is currently a lobbyist for US rocket manufacturers as chairman of the Space Transportation Association.
One of the key players in the Defense Forum Foundation is Chadwick Gore, a former government contractor and the founder of the Defense Forum Foundation. He is the husband of Suzanne Scholte, the director of the North Korea Freedom Coalition and also the president of the Foundation.
Gore is clearly from the national security elite. On his LinkedIn page, Gore says he is a "Senior Advisor" at the Department of State with a top secret security clearance. He attended a "joint officers training" course at the US Defense Intelligence Agency's college from 1991 to 1992, his site claims. Until a few years ago, Gore had been employed as a "joint interagency training specialist" for Camber Corporation, a defense and government contractor. Gore did not return telephone calls and emails seeking clarification on his work for the government and private defense contractors.
Reporting by Tim Shorrock
Design by Do-hyeon Lee
Publishing by Hyeon-jae Heo