U.S. President Donald Trump, who's visiting Korea soon, was found that his political aides were involved with the Appleby offshore scandal.
U.S. Secretary of Commerce Wilbur Ross, who's also a close confident of Trump, and deep-pocketed supporters who donated a large amount of money during the election campaign, were identified in the Appleby's internal documents leaked this time.
U.S. President Donald Trump has criticized
the issue of offshore funds at tax havens
since the presidential campaign.
"Everybody agrees it should come back, Republicans and Democrats, everybody. When everyone wants them to bring it back in, it's called leadership -- we will have that money brought back in. Not good for us."
"One-time tax on overseas profits, which will bring back trillions of dollars that are offshore to be invested here in the United States, to purchase capital and to create jobs."
However, the Appleby documents included his close aide Wilbur Ross -- the first secretary of commerce -- and Trump supporters, many of whom are big business figures who donated a large chunk of money.
One of them was Wilbur Ross, U.S. Secretary of Commerce. Appleby documents showed that Ross profited a lot by continuing shadowy businesses with sanctioned Russian entities at offshore tax havens.
How Trump's billionaire friend Wilbur Ross makes best use of tax havens
Before taking the office as Secretary of Commerce, Ross was a billionaire
infamous for his private equity fund business, often called by nickname 'vulture investor.'
He's also infamous in Korea, for acquiring bankrupt Halla Group during the 1997 Asian Financial Crisis.
He earned a lot from the margin generated amid Halla's restructuring process.
However, the fact that he operated business via shell companies at tax havens was exposed for the first time, by the international collaborative investigations.
According to Appleby documents, Ross acquired Navigator, a shipping company headquartered at the Marshall Islands, in 2011 via his company WL Ross Group based in the Cayman Islands.
Ross earned large sum of money by investing in Russian entities, which are owned or operated by Russian President Putin's close aides, with the Cayman-based shell company.
In particular, Navigator maintained a close business relationship with Sibur.
The de facto owners of this Russian energy company include Putin's son-in-law Kirill Shamalov.
The relationship between the two was so close that Sibur was listed to be one of Navigator's top 5 clients.
In 2015, about 9 percent of Navigator's total revenue, worth about $28.7 million, came from business with Sibur.
Navigator, a shipper whose de facto owner was Wilbur Ross, has maintained close business relationship with Russian energy company Sibur, which is closely related to Putin.
Mutual benefits between Trump's first Secretary of Commerce Ross and Putin's son-in-law Shamalov
After Russia's occupation of Crimea in 2014, Sibur had undergone a difficult time finding a lender as several board members were imposed sanctions.
But Sibur was less influenced by the impact of sanctions thanks to business deals with Ross and investments from the Putin administration.
Ross stepped down from the board of Navigator in 2014.
However, his secretary Wendy Teramoto was found to have succeeded the position.
This means, it is highly possible that Ross could have made business decisions on Russian entities like Sibur through his aides.
SVT, a Swedish news organization and a member of ICIJ's Paradise Paper project along with KCIJ-Newstapa, requested an interview to Sibur to cross-check facts it found.
SVT "I would really like the interview we were talking about and the possibility to visit your facilities?"
Anna Lebed, Sibur representative "No it's impossible, sorry."
SVT "So it's the final decision?"
Anna Lebed "Yes, this is the final decision. No media in the production site"
Wilbur Ross was found to be one of large-scale clients at Appleby.
According to the leaked documents, Appleby was found to have administered more than 50 companies related to WL Ross & Co. only within the Cayman Islands.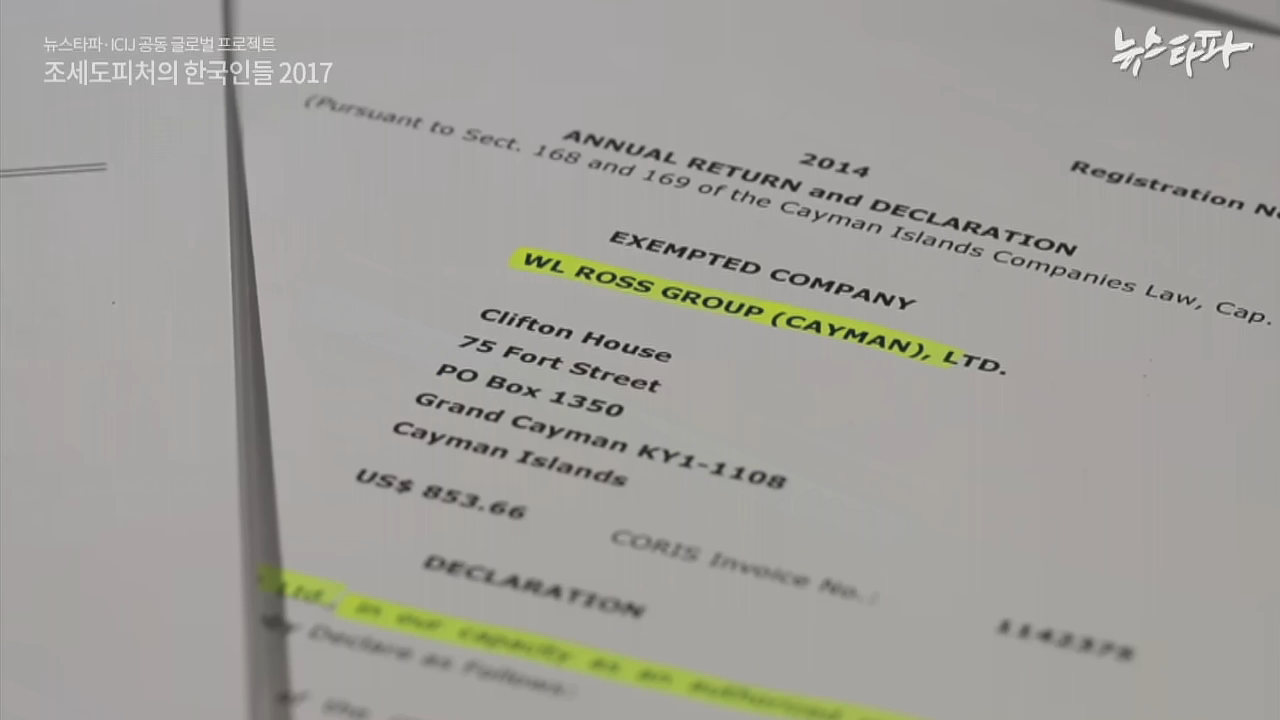 An official contract signed between Appleby and WL Ross Group, a Cayman Islands-based company of which de facto owner is Wilbur Ross.
Regarding businesses operated by Ross, a spokesman from U.S. Department of Commerce told ICIJ that WL Ross & Co. is not the de facto owner of Navigator, and that Sibur has never been under sanctions nor is it currently.
Trump's super-rich supporters also found to have benefited from tax havens
Many of Trump's deep-pocketed supporters were also identified in Appleby documents.
Warren Stephens was one of them. The Republican mega-donor is known to have largely influenced in Trump's pledge of abolishing regulations on loan companies.
His business is infamous for lending to those low-credit financially vulnerable borrowers with high interest.
Other Trump supporters in the Appleby client lists include Paul Singer, the founder of Elliott Management Corp.; Carl Icahn, the corporate raider; Robert Mercer, the hedge fund manager; and Sheldon Adelson, the canio magnate.
The leaked document also indicated that Russian businessman Yuri Milner invested in a real-estate firm co-owned by Trump's son-in-law Jared Kushner.
Milner was also found to have played a role of middleman for Russian entities' investment efforts to Facebook and Twitter.
As it has been exposed that Trump's close aides, supporters and a family member have traces of connections with tax havens, the controversy on Trump's moral standards is expected to rise.