At famous university hospitals, there are doctors who are often referred as the 'noted physicians.' They are celebrity doctors who patients easily trust and the industry insiders call the 'Key Opinion Leaders' (KOL).
As these celeb doctors have a great influence on the choice of medicines and treatment materials, pharmaceutical and medical device companies compete against each other to win their heart. Some of their efforts make headlines in the news for handing illegal kickbacks in return for using certain brand's drugs and medical devices.
In many cases, distributor agencies, which play a role of middlemen, become a lobby window. It's a well-known trick that those agencies give doctors back a certain percentage of their sales to the hospitals in the form of so-called "back-margin". The pharma or medical implant makers pay the price to doctors for using their products a lot.
Some doctors appoint individuals who seem irrelevant with them such as relatives and acquaintances, as executives at a distributor agency, and take the agency's profits by selling a certain company's medical devices.
The Korea Center for Investigative Journalism(KCIJ)-Newstapa looked into the suspicious relationship between celebrity cardiologists, medical device companies and these agencies in the cardiovascular scene.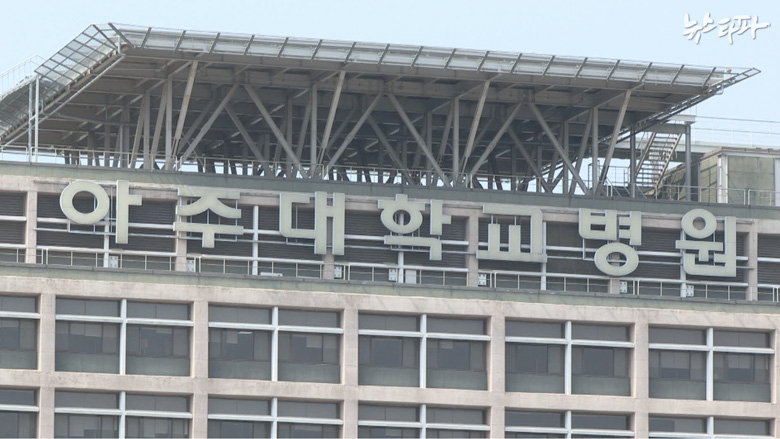 Ex-president of Ajou University Hospital in suspicious relationship with a medical implant maker
Human's heart muscles get blood supplied through coronary arteries, which consist of three strands. When the artery narrows, blood containing oxygen and nutrients can't flow properly into the heart muscle. This causes angina or myocardial infarction, which may lead a patient to death.
Reopening the narrowed artery requires an interventional procedure to let the blood run again. The procedure inserts a catheter with a balloon into the narrowed artery and inflates the balloon or inserts a stent, a metal mesh that supports the vessels to stay expanded.
Ajou University Hospital, the largest medical institution in Gyeonggi Province, has one of the celeb cardiologists famous for this intervention procedure.
Ajou University Hospital calls Tahk Seung-jea, a professor in cardiology at this hospital, the 'Hand of Midas in Cardiovascular Intervention.' His position in the hospital is also solid. He headed the hospital's cardiovascular center and served as the head of planning and coordination office at the hospital, a key administrative post. He finally served as President and CEO of the hospital for four years from 2014 to 2018.
Professor Tahk and Ajou University Hospital have used medical devices such as balloon catheters and drug-eluting stents produced by a local company called Genoss for their cardiovascular disease patients.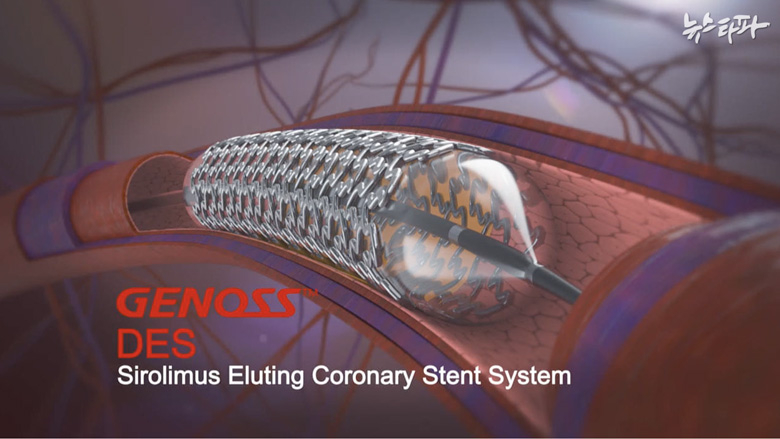 Genoss is one of the representative players in Korean medical implant industry, which strived to localize high-tech devices. By far, global medical device makers have dominated the cardiovascular stent market in Korea.
Nine out of ten stent implant therapies in Korea use imported products from companies like Medtronic, Abbott and Boston Scientific, a situation in which made it difficult for Genoss to expand its share in the market. Therefore, in 2018, the Ministry of Health and Welfare selected Genoss as a recipient of the government's promising local medical device maker fostering program.
The relationship between the home-grown rookie Genoss and Prof. Tahk was extraordinary. Since 2005, just after Genoss was founded, Tahk has been involved in product development and clinical trials to obtain the MFDS approval. He led the company's multi-institution clinical trials for Genoss drug-eluting stents (DES) as the lead researcher. According to Ajou University Hospital, Tahk signed an annual advisory contract with Genoss through the university's industry-academy cooperation center every single year.
Prof. Tahk was present at the scenes where Genoss publicized itself to the academic and medical communities. Large medical conferences held by major medical societies include a number of the so-called 'luncheon symposium' sessions, each of which is titled with a pharma or medical device company's name. These are short sponsored sessions to promote the companies' products. In recent years, Tahk chaired Genoss' luncheon symposium twice at the Winter Conference of the Korean Society of Interventional Cardiology in 2017 and 2018.
Why did the doctor and stent maker jointly establish a distributor agency?
As such, Tahk and Genoss have built a strong business relationship over a decade. Here, the question begins with the fact that the company's products are supplied to Ajou University Hospital, where Tahk holds a strong position. Soon, KCIJ-Newstapa learned that a distributor agency, which links Genoss and Ajou University Hospital, existed.
Genoss doesn't directly supply its products to Ajou University Hospital. Instead of Genoss, a medical device distributor agency named 'M' headquartered in Seongnam, Gyeonggi Province, is in a supply contract with Ajou University Hospital. Corporate registration document of this agency, established in 2009, showed that unexpected individuals were named as the company's executives in the same time period.
The CEO and sales director of Genoss were listed as the agency's outside director and auditor, respectively. This means that the device manufacturer was engaged in the management of a distributor agency, which sells products and earns commission fee. During the period, two other outside directors listed were cardiologists at Ajou University Hospital, an institution where Genoss' products are supplied to. One of them was Prof. Tahk Seung-jea.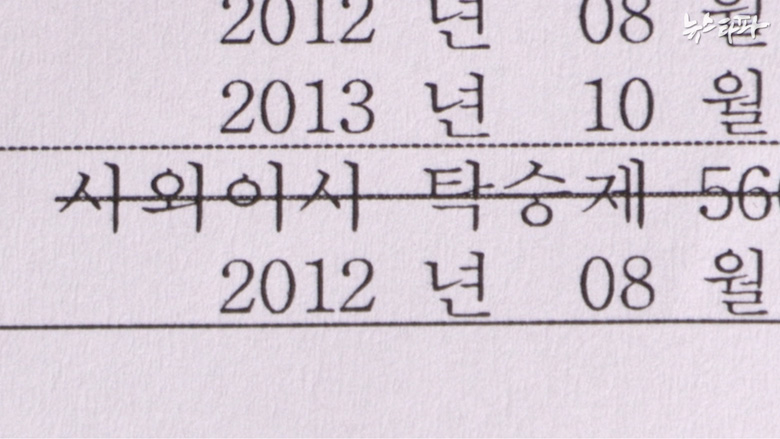 In short, key executives of Genoss and doctors of Ajou University Hospital, which use the company's products, jointly established this distributor agency M to supply the company's products to the hospital. The executives and doctors resigned from M one after another from 2011 to 2013. Then, afterwards, who has taken advantage of the profits generated at the agency?

The registration document shows a single individual surnamed Moon, who's still listed as the agency's representative director and an internal director. Moon was identified as Prof. Tahk's spouse. The apartment, written as Moon's address in the corporate registration document, was owned by Tahk, according to the real estate registry. It means that Prof. Tahk and his wife were the final taker of the fees the agency earned.
The agency supplies Genoss brand medical devices to five hospitals in Seoul and the greater Seoul area. Ajou University Hospital is the largest buyer.
Who was the winner of the agency's profit?
According to Genoss' sales data and testimonies from former employees, the agency M posted some KRW 330 million (USD 277,941) in sales in 2018 alone when Tahk still had the post of President of Ajou University Hospital. For Genoss, the agency M was one the most crucial agencies, as its sales was the second largest among the company's a dozen distributor agencies across the nation.
If the agency M supplies Genoss' drug-eluting coronary stents to Ajou University Hospital, it will earn KRW 300,000 to 450,000 per a stent, a former Genoss employee said. Depending on a patient's illness, each operation uses more than a single unit. Stents are covered by the national health insurance for up to KRW 2 million. The agency takes a portion of this reimbursed insurance benefit as revenue. Considering that the fee rate of medical device distribution agencies is usually around 20 percent, Tahk's family can make tens of millions of KRW every year.
Genoss failed to explain the relationship between the company, Tahk and the agency.
"I don't know," said Chung, CEO of Genoss, over the phone interview with KCIJ-Newstapa. I don't remember well."
Although Chung also has been listed as an outside director at this agency for many years, he failed to explain the background of establishing this agency and its relationship with Tahk.
However, it is clear that Genoss provided special support to the agency M, which is owned and operated by Tahk's spouse. Genoss' salespeople, not those hired by the agency M, were found to have done all the tasks that the agency is supposed to do, such as product deliveries and account settlements with the hospitals, according to a number of former Genoss employees.
The Fair Trade Act designated an act of "unfairly providing labor and services to other companies and trading on favorable terms" as unfair trade practices. The Act also regulates "the act of trading with other companies as mediums that don't have a practical role in trading." Such acts are prohibited, and violating them could result in fines.
Hospital: "No conflict of interest issue involved, but violated the concurrent office restriction rules"
KCIJ-Newstapa informed Ajou University Hospital about what it found out about Prof. Tahk and asked for its position. The hospital refused a face-to-face interview but expressed its take on a written response. The hospital said it learned about the matter only after KCIJ-Newstapa informed.
"No conflict of interest issues occurred in practicing medical services and in offering fair options to patients," the hospital wrote in the statement. "Doctors choose stents which they think are most suitable to each patient, and Genoss' stents had many advantages material-wise and functionally."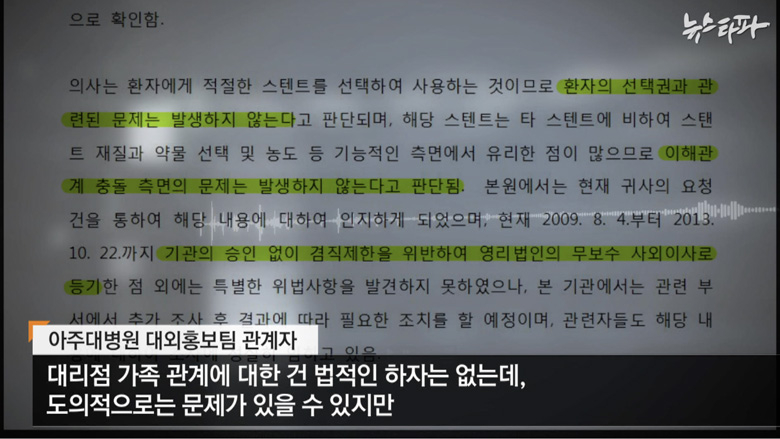 However, the hospital acknowledged that Tahk violated the hospital's internal regulation by holding an outside director position of a Genoss' distributor agency without the approval of the university and hospital.
"About Prof. Tahk, we found no violations other than worked as an outside director of a for-profit corporation (the agency) from 2009 to 2013 without the hospital's approval," the hospital said. "It is a violation of the hospital's concurrent office restriction rules."
Ajou University Hospital said its audit team will investigate further about this issue, and take necessary measures based on the results. However, whether the hospital has the willingness to investigate the case is not clear.
"We believe that there may be moral problems with the professor's family members' involvement in the agency, but there are no legal problems."
- Ajou University Hospital public relations team
KCIJ-Newstapa also reached out to Prof. Tahk Seung-jea himself for comment, but he refused to talk more about the matter. He said: "I have nothing more to say."

Even industry insiders were marvelled by the Tahk-Genoss relationship
KCIJ-Newstapa sought advice from medical circle and medical implant industry insiders regarding the business favors Prof. Tahk accepted from Genoss.
A number of Korea Medical Devices Industry Association officials who heard the story from the KCIJ-Newstapa reporter and took a look at the agency's corporate registration document, commonly said that "there is a big ethical problem."
A medical implant distributor agent, who has long experience in cardiovascular devices, told the reporter that Prof. Tahk "really done something very stupid." He also emphasized that a business structure like this is not a simple case of kickback, but "should be regarded as a crime that eats up financial resources of the national health insurance."
"If there are cardiologists like him, they must have been too insensitive to his power and authority," a cardiologist commented on the issue.
Reporting by Wooram Hong, Jiyoon Kim
Video by Joon-sik Oh
Video Editing by Ji-sung Jung
CG by Dong-woo Jung
Design by Do-hyeon Lee
Publishing by Hyeon-jae Heo