The Korea Center for Investigative Journalism(KCIJ)-Newstapa releases parts of the 'Lobby Know-how Files,' a packet of documents written by salespeople of Genoss, a local cardiovascular medical device manufacturer. It aims to raise awareness in the medical community and medical device industry.
The documents include the real names of several dozens of doctors and hospitals to which they belong. It contains vivid pieces of information on the doctors' attitudes, characteristics, and the power dynamics in each hospital. This means that the salespeople had maintained relationships with the doctors and other medical staffs at each hospital in person for a long time.
In the eyes of salespeople, some doctors were tainted with accepting lobbying such as financial sponsorship and hospitality treats. Genoss ordered its salespeople to devise sales techniques tailored to doctors who accept lobbying so naturally.
KCIJ-Newstapa sorted out contents that vividly showed such lobbying practices, which is a clear violation of medical laws, fair trade laws and the medical device industry's fair competition rules.
Let the agency target Dr. A with kickback
In a bid to boost sales of coronary stents and catheters, Genoss carefully selected the so-called 'target doctors' at major hospitals and designed targeting plans for each doctor.
The plan included "sponsorship in accordance with the amount of use," which means that the company provided some kind of financial support to doctors depending on the number of Genoss stents they used. As windows of delivering kickback, Genoss used distributor agencies, which the company designed for each hospital to trade with. Some of the agencies were required to pay for the lobbying campaign.
The plans also included offering free meals to the entire department, and free golf meetings for doctors.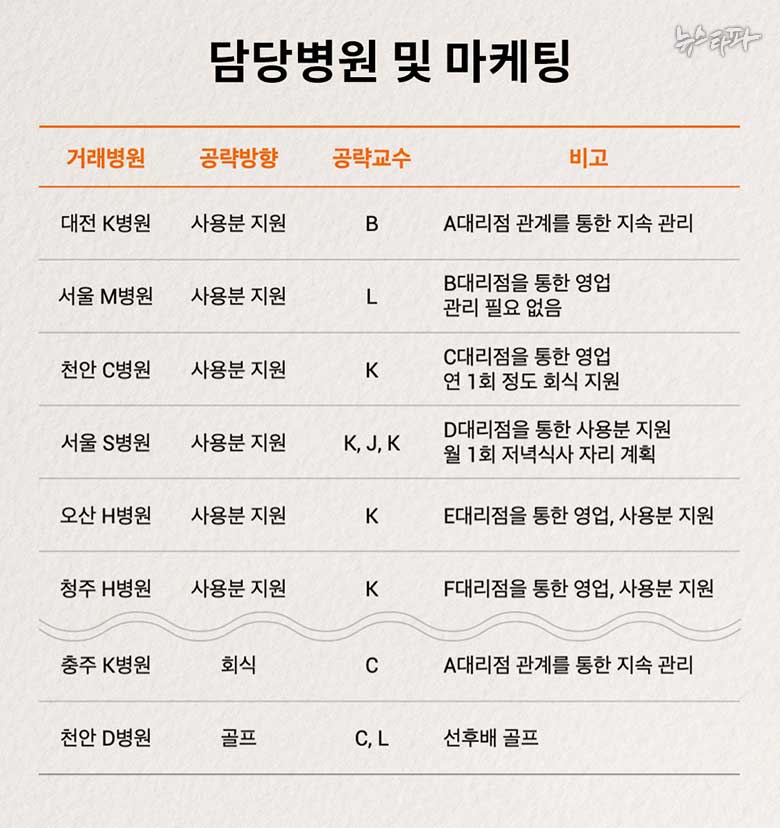 Doctors change their mind once we hand them 'this'
Genoss salespeople recorded these information they collected in and outside the hospitals. The conclusion of this document was one common line: Money and hospitality treats clearly affect doctors' stent choices and medical practices.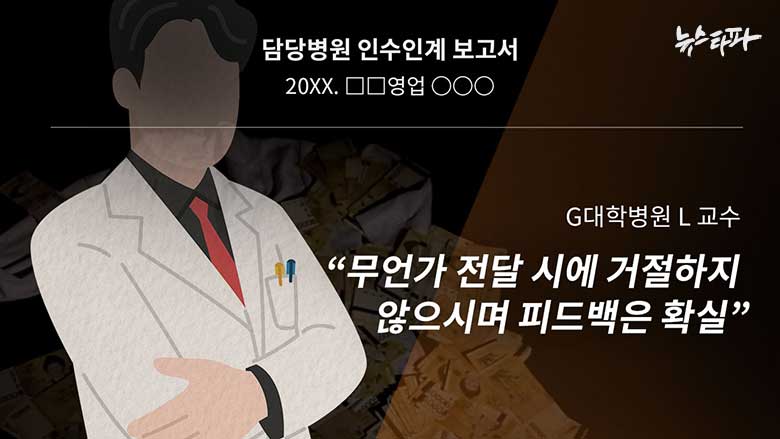 ● Professor L at G University Hospital
- Always tells salespeople to "keep it short." Says the same thing when he receives 'this.'
- Expected us to deliver 'this' to an ambulatory care office. Doesn't reject it, and the feedback afterwards is solid.
- He's done all the discussion with the agency. The agency buys 'this' and Genoss staff delivers it to him.
- If Prof. L's willing to maintain such a routine, we can get him to use our stents without attending procedures and pushing him use ours.
● Professor H of S Hospital at G University
- Prof. H loves drinking very much. He tries to get along with salespeople.
- He tends to demand a lot of financial support when attending overseas conferences. The feedback is guaranteed.
- When the time comes, he demands us to pay for conferences and an 'event.' Evaluates our efforts mostly with how frequent we buy him drinks. Does all our favors.
- Currently, he uses 20 to 30 balloons every month. Often complains about poor product quality, but still uses them. (Reporter's note: A balloon catheter is a medical device that expands narrowed blood vessels.)
● Professor M of S Hospital at G University
- A junior cardiologist but performs most stenting in his department. He looks quiet and timid, but becomes a totally different person at small drinking meetings and directly asks for financial sponsorship.
● Professor C of S University Hospital in Bucheon
- Prof. C uses a lot of Genoss stents as his brother-in-law runs a Genoss agency. He performs most stenting in his department.
● Professor P of E University Hospital
- In the past, Prof. P had a relationship with Mr. B, CEO of agency C, around back margin. Uses our competitor's balloon catheter. (Reporter's note: Back margin refers to the kickback calculation strategy based on a certain percentage of sales.)
● Professor L of S Hospital in Seoul
- Uses 10 to 15 balloons per month. We sell through the agency E. Only Prof. L uses our products in his hospital.
- Agency E shares a certain portion of balloon catheter sales revenue with the professor.
- He uses drug-eluting stents (DES) from our competitor's agency, which he designated for friendship.
● Professor P of K University Hospital
- We must keep sponsoring the conference organized by Prof. P. (What to sponsor: Buy a booth and website ad)
Prof. P recently bought Dentium Co., Ltd. stocks and wants to buy Genoss shares in the future. (Reporter's note: Another medical device company, Genoss CEO is the largest shareholder. Genoss is an affiliated company of Dentium.)
● Professor J of Gyeonggi I Hospital
- Prof. P, the other cardiologist at the department, was the only doctor who used Genoss stents. Prof. J recently started using them after I delivered a holiday gift.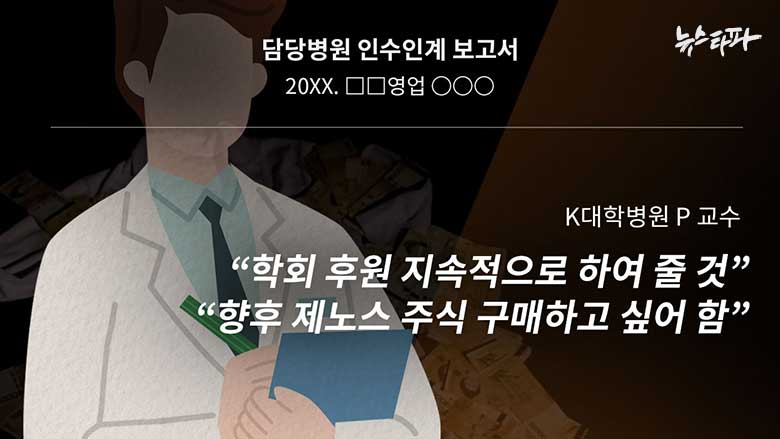 Doctors use our stent if we give them a clinical trial and funding for that
Genoss signed contracts with doctors for commissioning clinical trials using its stents. It paid as little as tens of millions of KRW and up to hundreds of millions KRW as research funds.
According to Genoss salespeople's records, the purpose of doing the clinical trials seemed clear. They even discussed terminating those clinical trials, which don't help sales, earlier than the end of contract. The Fair Competition Regulations, which were enacted and operated by the local medical device industry under the Fair Trade Act, ban the device makers from doing clinical trials for sales promotions purposes. However, the reality is different.
● Professor C of S Hospital in Seoul
- Marketing activities like organizing meetings and offering sponsorship are important to boost the usage, but with Prof. C, approaching with research results and requesting clinical trials will be also effective.
● Professor K of C University Hospital
- The goal is to encourage the use of Genoss stents by organizing a Genoss stent research group or commissioning a clinical trial. Should also target Prof. O, a colleague of Prof. K.
● Director K of S Hospital in Gyeonggi Province
- New clinical trial proposals are less relevant for Dr. K. Not many advantages other than testing results expected. Dr. K has no motivation for research.
- For the on-going clinical trial so far, K registered 29 out of his target 100 patients. It'll be best to go for early termination of this trial once he makes 50 patients. Should keep encouraging K to use ours by suggesting him other interesting research.
● Professor J and Professor P of I Hospital, Gyeonggi Province
- Prof. J is a principal researcher, but Prof. P is the one who actually conducts the Genoss clinical trial. But as Prof. J doesn't give out promised research funding to Prof. P and other participating staffs, our agency E has been handing in more money based on the number of stents P uses.
- Some doctors are not swayed by lobbying efforts
- Some doctors avoided Genoss salespeople's kickback and lobbying efforts. These doctors are the difficult ones to target.
● Professor J of S Hospital at G University
- I've met Prof. J before picking him up at the seasonal conference of Korea Society of Interventional Cardiology. But he didn't seem to like the 'events' (kickback and everything) being close with salespeople.
● Professor N of D University Hospital
- I personally contacted Prof. N and suggested that we'll sponsor a year-end party for the department. However, he hasn't responded as his department has never accepted such a sponsorship and has a negative view on such practice.
Despite ban of lobbying gifts, fancy wine gifts delivered to hundreds of doctors

In the new year, Genoss sends out bottles of wine to doctors, who are already a client or those potential clients.
The company listed up some 670 doctors and other medical professionals every year and sent them a bottle of wine worth KRW 50,000 to 150,000 (USD 42 to 126) in wholesale prices. Depending on the importance, the company sent different wines of different price range to its 'class A' doctors and 'class B' doctors.
Multiple former Genoss employees told KCIJ-Newstapa that "they visited each doctor's outpatient clinic at hospitals and handed wine in person, or delivered it by courier."
However, they said some doctors avoided such gifts. According to one of former salesperson, doctors at national university hospitals and a professor at S Hospital of G University in Seoul sent him back wines due to the anti-graft law. Money and high-priced wine gifts are considered unfair business practices, and are banned by the medical device industry's fair competition regulations.
Reporting by Wooram Hong, Jiyoon Kim
Design by Do-hyeon Lee
Publishing by Hyeon-jae Heo